Procurement and Warehouse Management System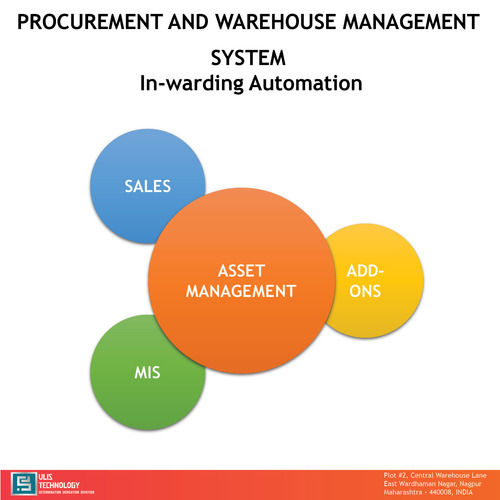 Procurement and Warehouse Management System
Product Description
Procurement and Warehouse Management System
Business dynamics expect higher service levels from supply chains while allowing lower costs to remain competitive. Warehousing and fulfilment have become a very important part of customer's buying experience. Its your job to continually adapt to the changing needs of the business. You need a powerful and configurable PWMS to leverage automation, reduce costs, increase efficiency, improve customer responsiveness, and reduce complexity. At PWMS, we build high quality supply chain solutions which embrace innovation, agility and frugality. Implementing with the PWMS can help an organization reduce labour costs, improve inventory accuracy, improve flexibility and responsiveness, decrease errors in picking and shipping goods, and improve customer service. Procurement and warehouse management systems operate with real-time data, allowing the organization to manage the most current information on activities like orders, shipments, receipts and any movement of goods.
Warehouse design, which enables organizations to customize workflow and picking logic to make sure that the warehouse is designed for optimized inventory allocation. The PWMS establishes bin slotting that maximizes storage space and accounts for variances in seasonal inventory.
Receiving and put-away, which allows inventory put-away and retrieval, often with pick-to-light or pick-to-voice technology to help warehouse workers locate goods.
Shipping, which enables the PWMS to send bills-of-lading (B/L) ahead of the shipment, generate packing lists and invoices for the shipment and send advance shipment notifications to recipients.
Inventory tracking, which enables the use of advanced tracking systems, including radio-frequency identification (RFID), automatic identification and data capture (AIDC) and bar-code scanners to make sure that goods can be found easily when they need to move.
Picking and packing goods, including zone picking, wave picking and batch picking. Warehouse workers can also use lot zoning and task interleaving functions to guide the pick-and-pack tasks in the most efficient way.
Reporting, which helps managers analyse the performance of warehouse operations and find areas to improve.
Contact Us
Plot No. UDC-2, Central Warehouse Lane, East Wardhaman Nagar, Nagpur, Maharashtra, 440008, India
Phone :+918037744806