Omr Checker Software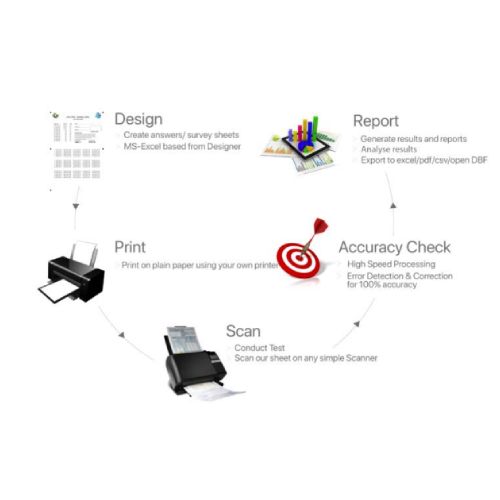 Omr Checker Software
Product Description
Omr Checker Software
OMR Application is highly accurate OMR software with inbuilt design facility ideal for evaluating objective based offline exams. It automate the process of admit card generation design of OMR sheets, scanning of answer sheets and result generation, hence, providing a one-stop solution for conducting offline exams. Built by a team of highly qualified IIT alumni and professionals, it is loaded with exclusive features like tick mark technology, analytical or graphical reports and user authentication and login module.
No need to use designing software for OMR design-
Normal printer to print OMR sheets-
You can use any normal, laser jet, color printer and photo copier to print OMR sheets.
Any scanner to scan the OMR sheets-
You can use any scanner flatbed/MFP/ADF to get scans of the OMR sheets.
Data accuracy is guaranteed-
One Application for scanning and reading-
No need to open different application for scanning and reading of OMR sheets, you can
effortlessly scan and read OMR with only one application.
Answer Sheet Checker OMR Software or OMR Sheet Check Software is widely used by educational institutions for conducting objective exam based on MCQ Test pattern, in order to get quick & accurate test results. OMR Form Reader is a handy software that can be used for collecting data for marketing, and for administering admission processes and to collect and store candidate information.
HIGHLY ACCURATE
OSCAN provides 99.99% accuracy in OMR Checking Technology with negligible redundancies.
DATA VALIDATION
With data validation facility, the OMR will be automatically highlighted where any data is incomplete.
USE ANY SCANNER
Compatible with any normal ADF scanner to assess accurate result. You need not to spend extra on special scanning devices.
RESULT ANALYSIS & REPORT GENERATION
Result can be easily generated in various formats in one go. You can analyze the result and assess the performance using reports generated.
LOG OF THE CHANGES MADE
Keeping a log of changes made by a user while preparing result using OSCAN. This can be very useful to keep a check on the operators who run the software
USER AUTHENTICATION AND LOGIN
We provide advance login features for the user to improve the authentication process.
EXCEL SHEET IMPORT FOR THE CANDIDATES LIST
Easily import the candidate list from the excel sheet.
School Periodic exams, admission tests, unit tests, final exams can be conducted easily using the OMR software.
Coaching Institutes
A huge number of coaching institutes for engineering and medical conduct omr based offline exams for the evaluation of their students. Oscan smoothens the process of OMR evaluation and result generation. Job assessment With OMR Application, job assessment exams can be conducted for hiring or to improve performance in their current roles.
Stand-Alone Software
You can decide to buy stand-alone software that enables you to access tracking data with customizable interfaces. While common, the specifics of this software can vary wildly from one tracking provider to the next.
Software is very user-friendly & can be used on any computer installed with Windows operating system.
Any document scanner can be used for scanning of OMR sheets. There is no need to purchase high-cost OMR scanners. Scanned images are to be saved on computer which are then processed by our OMR software.
Contact Us
Plot No. UDC-2, Central Warehouse Lane, East Wardhaman Nagar, Nagpur, Maharashtra, 440008, India
Phone :+918037744806