Library Management System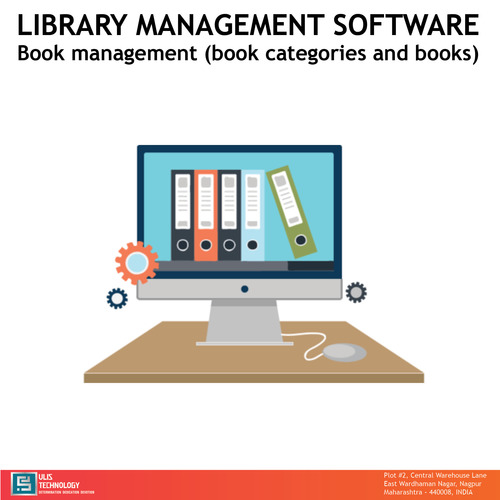 Library Management System
Product Description
ULIS- Library Management System is carefully developed for easy management of any type of library. Its a web based system where you can manage books of different categories, manage members of different types and manage issue/return of books easily. LMS will be an efficient and intelligent companion for managing your library. Library Management System (LMS)€ is a web based solution which is developed on latest technology focused towards automating the vital activities of the Library. The Library management system Solution can be integrated with Bar-code for easy access and retrieval of any item from the Library
Transaction Objective
To record every transaction is computerized system so that problem such as record file missing won't be happen
Our objectives is to write a program that enables us to automate the present manual library management system
User Friendly
To design a user friendly graphical user interface this suits the users.
User Audit Trials
The log is very useful to track the user logs easily. All the update and working details of user are seen their by the modules name, sub-module name. Search tool bar is very effective to search any user logs by selecting the user name and also date wise.
Save time
The system excludes the use of paper work by managing all the book information electronically.
Auto Filter & Auto Search
On each master form, Library Software will search on the field where your cursor is and what you type is taken as a search value.
Manage Book and Member Record
Easily manage Member and book detail with help of Barcode.
Circulation
Library Management Software enables the complete management of multiple Item issue and return of books using Manual or Barcode Scanner.
Barcode
Use of Bar Codes for Library Management eases the everyday tasks of big Libraries, where the No. of transactions exceed several thousands in number. Moreover, the software can work even without Bar Codes seamlessly. The Bar-Code generation and printing process is a Built-In feature of this Software.
Alert through Email
Admin can send mail to members, vendors, or any other people from the software.
Export All Report into Excel
Admin can take all the details which are displayed in the reports into excel.
Real-time dashboard
Unique and powerful dashboard.
View records of books due till date generated in one table with respect borrower name along with issue date and book name.
It view the record of total no of books available in library, no of books issue by members, no of books lost and no of pending issue request.
Analytics of lost books represent by pie chart and most issue book
Simple & Easy to Use
It is easy to use and manage the library accounts
Contact Us
Plot No. UDC-2, Central Warehouse Lane, East Wardhaman Nagar, Nagpur, Maharashtra, 440008, India
Phone :+918037744806