Konec E-kyc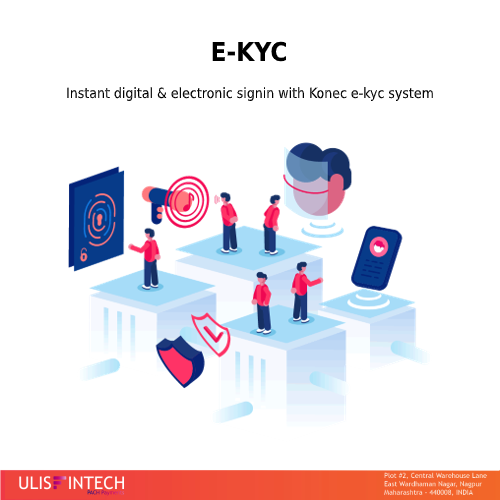 Konec E-kyc
Product Description
Konec E-kyc
KONEC E-KYC Know Your Customer process has been around for long and it is being enforced as a regulatory compliance across finance sectors and various industries to make transactions fool proof and nip fraudulent activities in the bud. The entire process of implementing KYC know your customer is tedious, error prone, time consuming and a waste of resources to go over this manually.
ULIS Fintech E-KYC know your customer solution is a whole package designed to transform the way you capture and handle your customer. Its solution capabilities reduce time and applied cost, and increase operational efficiency of your business processes. KYCs imaging and workflow requirements are adapted.
EVERY SINGLE STEP IN THE PROCESS IS AUTOMATED KONEC E-KYC SYSTEM
Our KYC Know Your Customer Software works the following way:
Search for relevant KYC documents
Scans physical documents received
Capturing the required information
Notify customer if any further documents are required
Checking for compliance and auditing
Generating reports
WHY E-KYC SYSTEM?
360 degree view of all your clients
Gain agility and maximize operational efficiency by centralizing on boarding and client lifecycle management across multiple jurisdictions and lines of business to give a complete view of all your KYC data.
Fully compliant
Achieve maximum compliance within global KYC regulatory requirements.
Tracking/Reporting
Digital data is seamlessly transferable in its native form to analytics, auditing, tracking and reporting systems creating opportunities for optimization and strategic analysis.
Automate risk
Auto categories your clients into Low, Medium or High risk to gain a clear view of the size of risk presented to your institution from a financial, and regulatory perspective.
Contact Us
Plot No. UDC-2, Central Warehouse Lane, East Wardhaman Nagar, Nagpur, Maharashtra, 440008, India
Phone :+918037744806