Institute Fees Manager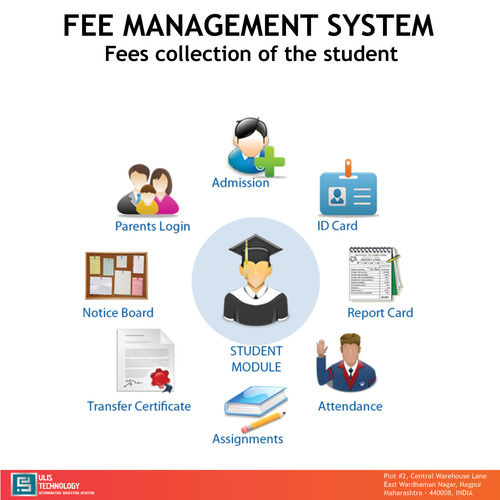 Institute Fees Manager
Product Description
Maintain finance of school is very difficult for the educational institute and also fees collection of the student is the most important responsibility for the educational institute. With the help of ULIS-Fee Manager, educational management easily collects student fees by filling in a single form. ULIS- fees collection software offering flawless fees collection task in a definite way. Fees collection can be possible in cash or cheque both the way. With the help of ULIS -fee collection software, you can easily manage student fee collection and maintenance fees related data.
Manage Fee
In School Fee Management Software you can define the type of school fees to be collected from a specific year/semester. This module allows you define fee groups according to your school rules and apply the different fees defined to the students as required.
Real-time dashboard
Unique and powerful dashboard.
Dashboard provides the navigation board that allows the accessibility of admin registration, adding new courses details, student registration.
Provide the accessibility to view the details of student fee collection, payment details in a list , student list, student ledger and so on.
It view the details of student's installment paid by week wise, installment due date of students as well.
It display the report of made expenses and received payment details by month wise.
Data Backup with Synchronization
The cloud-based fee management system provides fast and automatic backup and online/offline synchronization of data for access to academic data.
Safe and secure
Offers a role-based access control in a multi-user environment. Fee management system in also is a function that not only needs complete accuracy, but it also needs to be secure, hassle-free and transparent to avoid any fraudulent transactions. The simplest way to achieve all of these goals is through the use of an online fee management system.
User-friendly
Feel the deference of implementing automated software into your system in few easy steps. It makes the users feel comfortable with user-friendly and easy handling of fee processing in a paperless environment
Expense
Adding new expenses, track the expenses list Track payments easily and cost-effectively to ensure a competitive exchange rate. Easily generate expense receipts for different periods and control your cash flow. Identify the spending trends in various categories and save for future goals.
Analytic Report
Provide the overall analytic report of the fee manager such as collection predictive report, previous collection analytics, actual and previous installments report, expenses made and payment receive report, paid and pending fee report by batch wise as well
Searching and Filtering the Data
Providing the functionality of searching a collective and individual data by filtering in each section from large number of records
Contact Us
Plot No. UDC-2, Central Warehouse Lane, East Wardhaman Nagar, Nagpur, Maharashtra, 440008, India
Phone :+918037744806