Chatbot Application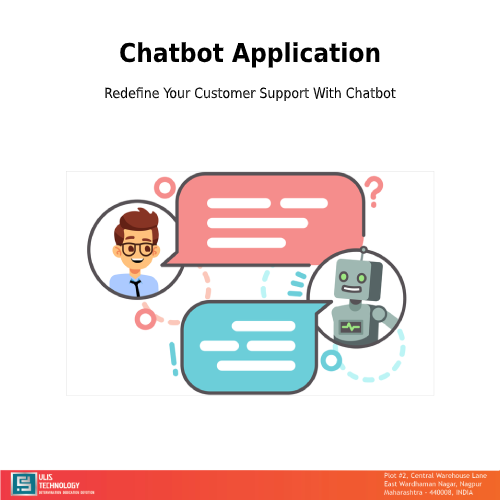 Chatbot Application
Product Description
Chat Bot eliminates complexity and helps you to build the best possible messaging experience for your customers. We provide robust administrative features and enterprise-grade security to comply with regulatory mandates.
Build, connect and publish intelligent bots to interact with your users naturally wherever they are the Chat Bot Builder Platform enables you to publish your chatbots easily to mobile devices, web apps, and chat services such as Facebook Messenger, and other popular channels.
Every Single Step In The Process Is Automated Chat Bot
Answer enquiries 24 x 7 with no holiday or sick leave required
Handle multiple simultaneous chat sessions without delays between answers
Integrate into existing business logic for consistency and speed
Free up time for human agents to deal with more complex or emotive issues
Handle peaks in demand without additional headcount
Create
You can create an automated(bot) or Human (Human Hybrid) chatbot. No coding or technical skills required
Build
Design conversations to utilise "Simple" or "Multiple Choice" or something more complex such as action buttons, translation, collect payments
Publish
Publish your bot everywhere your users are. No coding or technical skills required
Benefits to the banks
Facilitating two-way, human-like communications and directing customers to perform many banking transactions using chatbot
Benefits to the customers
Reaching instant and personalized services that are available 24/7 via their preferred digital channel
Improve User Experience With Instant Service and Easy-to-Use
Customers can ask a question with any common wording or select from a menu of options and your chatbot can respond immediately.
Collect Data About Your Customers
Chatbots record conversation verbatim from which insights can be extracted. As more customers ask questions, the chatbot can learn what they want and need. And teach you a few things about your customers needs
Contact Us
Plot No. UDC-2, Central Warehouse Lane, East Wardhaman Nagar, Nagpur, Maharashtra, 440008, India
Phone :+918037744806