Bifrost Enterprise chatting application PWA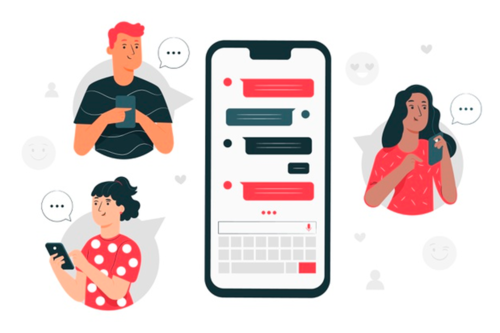 Bifrost Enterprise chatting application PWA
Product Description
BiFROST Chat Application is our innovative and comprehensive instant messaging appdesigned and customized for private and public enterprise or associationcustomers which don't have a mobile app yet. Create a version, skin, language& settings of our powerful Business Chat Application under your own brandto suit your specific needs and augment your engagement and retention.
Buildyour BiFROST Chat app with features like messaging, voice/ notes, filesharing, gif sharing, group chat and QR code generator. Develop real-timeinstant messaging app with infused machine learning empoweredfor perfect human interaction.
Why BiFROST Chat Application?
Acustomized messaging app, with own logo and branding, better suit your specificbusiness needs.
OurBiFROST Chat App give you the tools to effortlessly implement a messaging appyour users love
Messageyour users directly in your app. A premium messaging experience is in your app.
Usethe BiFROST Chat App with three simple acts. Say, record and send.
Lead like a Pro with BiFROST ChatApplication
Combineyour workforce on a single page with instant messaging app solution that iscreated for collective information handling, team conversations, and infuseddata sharing.
SayAnything
Sharetext, voice messages, photos, videos, GIFs and files for free. BiFROST usesyour phone's data connection so you can avoid SMS and MMS fees.
GetTogether with Groups
Groupchats make it easy to stay connected to your family, friends, and co-workers.
Centralized Administration
Stayin control of who is allowed to use BiFROST and what features they're allowedto utilize with centralized administration. As new employees are onboarded theyautomatically appear on everyone else's contact list.
Desktop Notifications
BiFROSTsupports a diverse array of notification options to ensure your employees willnever miss a message. Show alerts near your clock, play sounds, flash windowsin your task bar, or even create custom notification rules
CreateQR Code
BiFROSTChat application enable you to create the QR code for any text, link and moreand make your message secure more
Read Receipts and DeliveryConfirmation
Especiallyuseful in busy environments when responses aren't always necessary, readreceipts let your users know when their messages have been read by the otherparty.
Contact Us
Plot No. UDC-2, Central Warehouse Lane, East Wardhaman Nagar, Nagpur, Maharashtra, 440008, India
Phone :+918037744806