Asset Tagger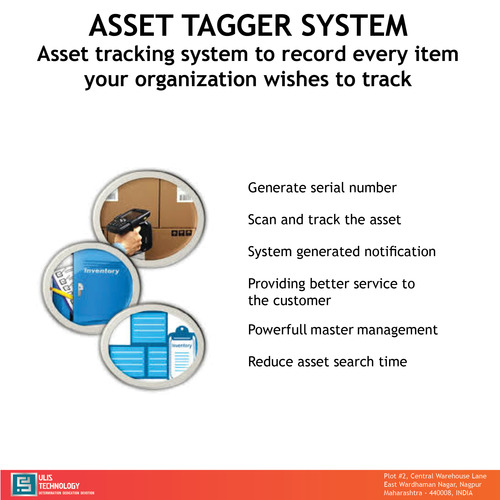 Asset Tagger
Product Description
ULIS-Asset Tagger is a tool with integrated software designed to help you keep track of your assets.The majority of companies tend to maintain traditional asset registers and accounting systems for managing their assets, the problem is, these systems are usually outdated and ineffective, meaning that equipment is still easily lost, misplaced or stolen, and therefore these systems dont work. The real challenge is keeping the data accurate, complete, and updated at all times. In order to be able to do this effectively, it is essential to have a tagging system that tells you if your assets are all accounted for and really exist.
Provides complete Fixed Asset & Inventory Tracking solution that enables users to conduct comprehensive, cost-effective physical audits. Barcode labels, attached to fixed assets and inventory items, and handheld scanning devices are required to conduct the physical audit.Asset management is the application of a variety of systems and tools to ensure that every tangible item of value to your company is monitored and maintained. At Seton, we provide a variety of tools for you to use in crafting the perfect system to track your items. We have software and barcode scanners to provide you with a base asset tracking system to record every item your organization wishes to track. Once you've got that set up, you can then quickly label your items with one of the many asset tags, asset labels, and property labels we have on stock. In case you don't find exactly what you need and want something more specialized or just want labels specifically customized for your company, we also provide use of our Design-Your-Own tool.

Monitoring physical assets
The most obvious use of asset tracking solutions, SMEs are better able to monitor physical assets as they move throughout the organization or are transferred between departments. This enables SMEs to gain a better view of the company's complete physical asset portfolio, more easily identify needs, and eliminate wasteful, unnecessary duplication of assets through better resource management.
Streamlined maintenance management
For companies that manage assets requiring periodic or ongoing maintenance, asset tracking solutions are a lifeline. Too often, maintenance management is a process that falls behind when companies rely on manual documentation to keep maintenance schedules on track. With asset tracking solutions, asset management software can provide alerts to ensure scheduled maintenance is never an afterthought.

Preventing loss
In the course of conducting day-to-day business, its easy to misplace important assets. Devices, equipment, and other items that frequently move throughout an organization may not always be accurately documented. When the same asset is needed again, the most recent records reflect the asset current location and are unable to be located. Its this shortcoming that leads to many companies unnecessarily duplicating assets.

Providing better service to customers
Ultimately, the culmination of the other benefits offered by asset tracking enables SMEs to perform better, maintain better working equipment and tools, and better allocate resources to complete projects both on time and on budget. The end result is increased customer satisfaction. While you are reducing unnecessary spending by taking better control over your assets, you also boost profits by earning repeat business and recommendations from satisfied customers.

Automated inventory control
Effective asset management leads to efficient and accurate inventory management while eliminating many of the headaches typically associated with inventory control. For instance, taking periodic physical inventory counts is still necessary for most organizations, but when assets are tagged or labeled they can be quickly scanned rather than manually verified to match identification numbers to records. Overall, its a much simpler process.
Contact Us
Plot No. UDC-2, Central Warehouse Lane, East Wardhaman Nagar, Nagpur, Maharashtra, 440008, India
Phone :+918037744806